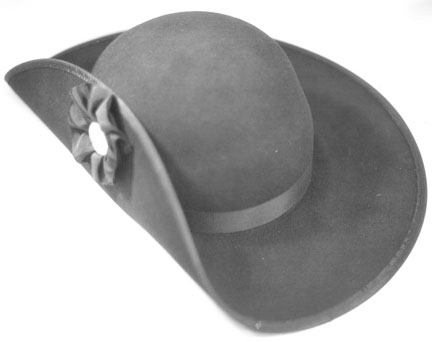 There are many workshops scheduled for this weekend's Hive gathering at the Noah Brooks Tavern in Minute Man National Historical Park, including a new one from Ray Najecki: "Making Horsehair Fabric Cockades." The cockade was the decorative ribbon that helped hold up one flap of the brim of a cocked hat. Here's a sampling of Mr. Najecki's work in this area.

Why were cockades so important? Because Gen. George Washington said they were. One of his priorities after taking over the army around Boston was to instill a stronger sense of rank and hierarchy into those New Englanders. In particular, that meant being able to tell the officers from the enlisted men.

On 23 July 1775, the generalissimo issued this order:
As the Continental Army have unfortunately no Uniforms, and consequently many inconveniences must arise, from not being able always to distinguish the Commissioned Officers, from the non Commissioned, and the Non Commissioned from the private; it is desired that some Badges of Distinction may be immediately provided, for Instance, the Field Officers may have red or pink colour'd Cockades in their Hatts: the Captains yellow or buff: and the Subalterns green. They are to furnish themselves accordingly.
So not only did an officer need a cockade on his hat, but it had to be the
right color
.
TOMORROW: Sometimes
a general just wants to be recognized
. Is that so wrong?
(The cocked hat above is from the
online catalogue of C. & D. Jarnagin
.)