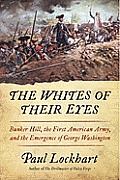 This season has brought two new books on the Battle of
Bunker Hill
and surrounding events, and both authors will be speaking in Boston over the next two days.
On Thursday, 16 June, Prof.
Paul Lockhart
of Wright State University will
lecture at the Massachusetts Historical Society
on his book
The Whites of Their Eyes: Bunker Hill, the First American Army, and the Emergence of George Washington
. His previous books include
The Drillmaster of Valley Forge: The Baron de Steuben and the Making of the American Army
.
This talk is co-sponsored by the
Longfellow House–Washington's Headquarters National Historic Site
in Cambridge, now offering free tours every Wednesday through Sunday. Lockhart's lecture is free and open to the public, with refreshments before and books for sale after, but the historical society asks people to
reserve a space in advance
.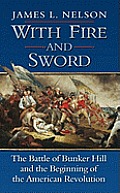 On Friday, 17 June,
James L. Nelson
will be the
orator at the Bunker Hill Day Commemorative Exercises
. His latest book is
With Fire and Sword: The Battle of Bunker Hill and the Beginning of the American Revolution
. The exercises at the Bunker Hill Monument in Charlestown start at 10:00 A.M., following a religious service and a parade.
Nelson is the author of
George Washington's Secret Navy
,
Benedict Arnold's Navy
, and
George Washington's Great Gamble
, as well as some award-winning
maritime historical fiction
.
With Fire and Sword
might be Nelson's first book about fighting over (gasp!) land. But of course Royal Navy gunners were the first British to fire on the provincials building their redoubt on Breed's Hill.