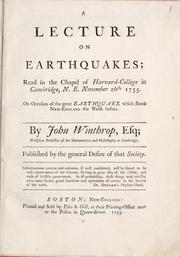 Most of the articles under the pins of the Bostonian Society's "Mapping Revolutionary Boston"
website
/
app
were drafted by students at Wellesley, Suffolk, and Harvard. There were layers of vetting and editing, but those students deserve their credit for starting the process.
One of those pins touches on the Earthquake of 1755. The original article focused on Prof.
John Winthrop
of
Harvard
, and his suggestion that the tremor was the product of underground gases and not, as some of his prominent forebears would have said, the anger of God.
The subject doesn't link to Boston's political Revolution—the quake came ten years before the
Stamp Act
, twenty years before the war. But it ties into the Enlightenment's scientific revolution, the ongoing shift away from theocracy in New England, and daily life in colonial Boston.
Unfortunately, with that focus the article didn't provide a place to put the pin. Prof. Winthrop lived and worked in
Cambridge
(I like to think of
his house
as under the Ben & Jerry's Ice Cream in the Garage). The map under "Mapping Revolutionary Boston" shows only the Boston peninsula in 1769.
So one of my tasks was to find a way to connect that article to a place in Boston. Surely someone in town mentioned the earthquake. After all, it was…an earthquake! Unfortunately, there's much less published about 1755 than about 1765 or 1775. Eventually I remembered that
John Tudor
kept a diary for many years before the war, and his descendants
published it in 1896
.
Sure enough, Deacon Tudor wrote a few lines about the earthquake. He even pinpointed where in Boston the worst damage occurred! So that's why the article starts with him, and then zips across the Charles River to discuss
Winthrop's commentary
.