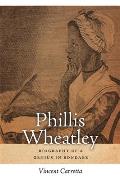 On Friday, 28 September, the
American Antiquarian Society
in
Worcester
will host Prof. Vincent Carretta of the University of Maryland speaking on
"In Search of Phillis Wheatley."
This talk is the 29th Annual James Russell Wiggins Lecture on the History of the Book in American Culture and part of a research symposium called "Poetry and Print in Early America," but it's also free and open to the public.
The lecture description says:
Phillis Wheatley is now widely recognized as the mother of African-American literature. She rose from the indignity of enslavement to earn international celebrity, only to die in obscurity and poverty. Vincent Caretta will discuss his recent biography, Phillis Wheatley: Biography of a Genius in Bondage and how, despite Wheatley's contemporaneous fame and subsequent reputation, the many mysteries surrounding her life made a biography of her seemingly impossible until 250 years after she left Africa.
I enjoyed Vin Carretta's biography and greatly admire how much documentation he added to the Wheatley story. Someday I'll share my own theory about "Mrs. S.W."
This free public event starts at 7:00 P.M. (That's half an hour earlier than A.A.S. events have started in years past.)