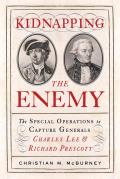 Next Thursday, 12 December, the Newport Historical Society will host author Christian McBurney's first lecture about his new book
Kidnapping the Enemy: The Special Operations to Capture General Charles Lee and Richard Prescott
. The society
describes the event
this way:
On December 13, 1776, at an isolated New Jersey tavern, George Washington's second-in-command, Major-General Charles Lee, was captured by a party of British dragoons. The American army needed a British captive who was the same rank as General Lee.

Rhode Island's William Barton planned and executed the cross-bay capture of Major-General Richard Prescott at the Overing house in Middletown, where Prescott commanded the British garrison occupying Newport and the rest of Aquidneck Island. Barton's raid was the outstanding special operation of the Revolutionary War and still ranks as one of the greatest in American military history. But did the pride he earned from this mission ruin thirteen years of his life?
McBurney is a graduate of Brown University and partner in a Washington, D.C., law firm. He is the author of other books on early Rhode Island history, including
The Rhode Island Campaign: The First French and American Operation of the Revolutionary War
and
British Treatment of Prisoners During the Occupation of Newport, 1776–1779
.
Admission to this event is $5 per person, or just $1 for Newport Historical Society members. It will take place in the
Newport Colony House
, Washington Square, starting at 5:30 P.M. To reserve a space, call 401-841-8770.