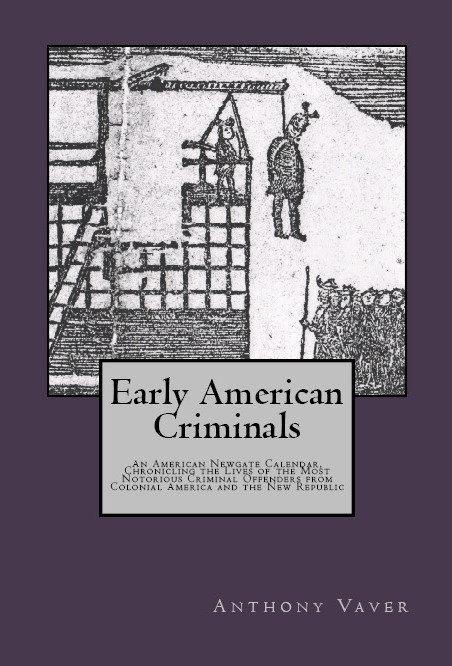 Anthony Vaver's
Early American Crime blog
offers one of the liveliest landscapes of life in colonial and federal America. It tells stories of burglary, murder, counterfeiting, and other crimes.
Earlier this year Vaver collected the best of those stories in
Early American Criminals: An American Newgate Calendar, Chronicling the Lives of the Most Notorious Criminal Offenders from Colonial America and the New Republic
. That book also includes two chapters published on other websites and another exclusive to print.
Most of those tales come from New England, largely because this region had so many
printers
to record the juicy details in the first place. Unlike
Old Bailey Online
,
Early American Criminals
isn't just a compilation of period reports on the crimes.
Rather, for each story Vaver has assembled evidence from period newspapers, published confessions, execution sermons and verses, and later studies. The emphasis is on the narratives of those crimes rather than analysis of the social or legal conditions behind them.
Thus, it's the details of those stories that stand out. For instance, when Bryan Sheehen was hanged in
Salem
for a violent rape in January 1772, he left his body to a Dr. Kast for dissection. (That was most likely the apothecary and physician Philip Godfrid Kast, Jr.) But in March, the
Massachusetts Spy
reported, a large crowd of locals dug up Sheehen's grave and determined that his body was still intact. Which I guess shows that they still cared.
Early American Criminals
is over 350 pages long with an index and occasional illustrations. It was published through Vaver's Pickpocket Press and is probably most easily bought
through Amazon
.