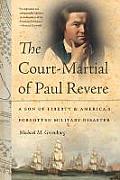 On Wednesday, 10 June, the
U.S.S. Constitution Museum
will host a talk by Michael M. Greenburg on his book
The Court-Martial of Paul Revere: A Son of Liberty and America's Forgotten Military Disaster
.
During the war,
Revere
succeeded
Thomas Crafts
as colonel in charge of Massachusetts's state
artillery
regiment. In 1779 Massachusetts assembled an
armada of over forty ships
plus infantry and artillery to attack the Fort George at Penobscot Bay,
Maine
.
That didn't go well. In fact, the usual comparison, based on the number of American ships lost, is to Pearl Harbor.
Revere was among the many men blamed for the bad results. He asked for a court-martial—in eighteenth-century society, that was a common way for military officers to gain public vindication. In fact, Revere asked for a court-martial multiple times. On 20 Jan 1780, for instance, he wrote to the
Massachusetts Council
:
Twice have I petitioned your Honors and once the House of Representatives for a Court Martial but have not obtained one. I believe that neither the Annals of America, or Old England, can furnish an Instance (except in despotic Reigns) where an Officer was put under an arrest, and he petitioned for a Tryal (altho the Arrest was taken off) that it was not granted. The complaints upon which my arrest was founded, are amongst your Honors papers, and there will remain an everlasting monument of my disgrace if I do not prove they are false; is there any other legal way to prove them false, than by a Court-Martial…
Eventually Revere got his wish.
Greenburg is an attorney
from Ashland who has written two previous books about historical incidents from more recent decades.
This talk is co-sponsored by
Old South Meeting House
, the
Paul Revere House
, and the U.S.S. Constitution Museum. It begins with a wine and cheese reception at 5:30 P.M. Greenburg is scheduled to start speaking at 6:30, and will sign books afterward. The event is free and open to the public.