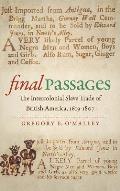 On Thursday, 24 March, Framingham State University will host two events with Prof. Gregory O'Malley of the University of California, Santa Cruz, author of
Final Passages: The Intercolonial Slave Trade of British America, 1619-1807
.
At 2:30 P.M. O'Malley will lead a roundtable discussion on balancing empirical quantitative research with a humane approach to writing about people, particularly those who were oppressed or marginalized. The debate over how to manage these issues is central to writing about the history of
enslavement
and many other issues where evidence is available largely in only quantitative form. O'Malley wrote about that balance in
this essay for the Omohundro Institute's blog
about a discussion among scholars of the Atlantic slave trade:
Many were particularly troubled by the sources of the numbers—port records, insurance documents, and merchant accounts that treated enslaved people as commodities, abstracting human beings as mere tally marks in ledgers. In playing what critics often critiqued as the "numbers game," were slave trade historians perpetuating the dehumanization of the slave trade by using these shipping records to count the captives crossing the Atlantic?
That roundtable discussion will take place in Framingham State's Center for Inclusive Excellence on the upper mezzanine of the Henry E. Whittemore Library.
At 4:30 O'Malley will give a public lecture in the Heineman Ecumenical Center entitled
"Beyond the Middle Passage: Slave Trading from the Caribbean to North America, 1619-1807."
This talk reflects the topic and approach of his book, the university says:
In Final Passages, O'Malley explores the origins, evolution, and decline of the trade in enslaved Africans within and among American colonies between 1619 and 1807. Most Americans are now familiar with the Middle Passage, the transatlantic crossing that brought enslaved people to the Western Hemisphere, but as O'Malley demonstrates, that was far from the end of the journey for many of them. O'Malley's visit will provide an opportunity for us to explore the ways in which people of African descent have worked to forge communities in the Americas despite the enduring legacies of slavery and racial discrimination.
O'Malley's presentation will particularly explore the role of New Englanders in the North American slave trade. A reception open to all attendees will follow.