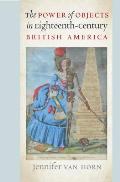 Laurel Daen
recently reviewed
Jennifer Van Horn's
The Power of Objects in Eighteenth-Century British America
for H-Net. Here's an interesting extract from that review:
Van Horn uses portraits of young women in Charleston that feature masks and dresses worn to masquerade balls to consider women's contested relationship with civility and changing imperial identity in the 1760s. Although no masked galas were ever held in America, colonists knew about them due to their popularity in London. Charlestonian women wore masquerade garb in their portraits, Van Horn suggests, not only to display their awareness of British trends, but also to assert a degree of sexual power that was otherwise prohibited in polite society.

Masquerades were associated with licentiousness. By adopting the style in their portraits, young women celebrated the phase of their lives in which they engaged in courtships and thus retained some control over the future social networks of their families. Elite men argued that women's masked likenesses exposed the passions that threatened their civility, but they nevertheless tolerated the trend, knowing that women's urges would soon be contained within marriage.

Van Horn also notes how the masquerade served as a symbol of the impending imperial conflict. While patriots used masks to signify British duplicity and represented America as a courting woman who held power over her suitor, British military officers literally employed masks to transmit secret information and loyalists depicted America as a bride to Britain.
Daen also highlights Van Horn's discussion of the wooden legs that
Gouverneur Morris
used—different styles in Europe and in America.