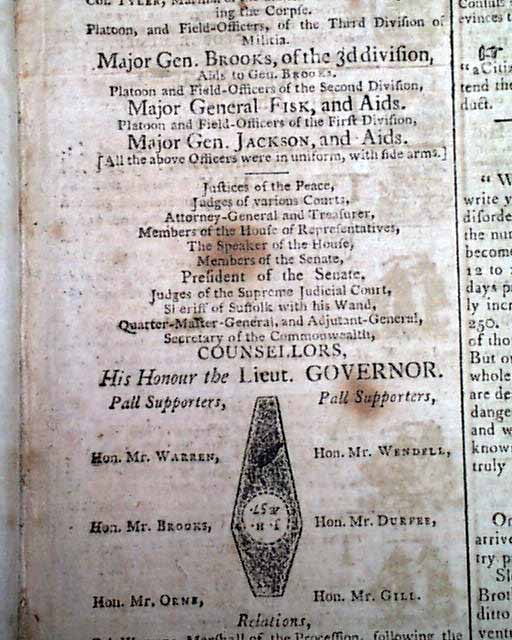 Earlier in the week I wrote about the
funeral
of
Christopher Seider
. The merchant
John Rowe
stated in his diary, "I am very sure two thousand people attended his Funerall." That would have been one of every eight people in Boston.
John Adams
watched that event with Rowe and wrote:
a vast Number of Boys walked before the Coffin, a vast Number of Women and Men after it, and a Number of Carriages. My Eyes never beheld such a funeral. The Procession extended further than can be well imagined.
But within a couple of weeks came the funeral of the first four victims of the
Boston Massacre
, and that was even bigger. "Such a Concourse of People I never saw before—I believe Ten or Twelve thousand," wrote Rowe. That was more than twice the reported capacity of
Old South Meeting-house
.
A report printed in several newspapers guessed:
It is supposed that there must have been a greater Number of People from Town and Country at the Funeral of those who were massacred by the Soldiers, than were ever together on this Continent on any Occasion.
However, back in 1740 Boston newspapers estimated that on several days the Rev.
George Whitefield
had preached to crowds of 15,000 to 23,000 people on
Boston Common
. The siege of
Fort Carillion
in 1759 also involved more than 20,000 people.
Be that as it may, the grandest if not the most crowded funeral that eighteenth-century Boston ever saw took place on this date in 1793: the send-off for Gov.
John Hancock
. The
Guardian of Freedom
, published in
Haverhill
, stated: "The concourse of spectators was greater than we ever remember to have seen on any occasion."
The main reason for that turnout was fond feelings for Hancock. Most people in Massachusetts admired their governor. Many authors have written that Hancock accomplished little in his final years, but that assumes he went into politics to make changes. Once independence was achieved, and perhaps even before, I think Hancock's main aim was to increase and preserve his own popularity by keeping most people happy, and in Massachusetts he achieved that.
Another reason for the big occasion on 14 Oct 1793, I think, arose from the circumstance of Hancock's death on 8 October.
TOMORROW: How the governor died.