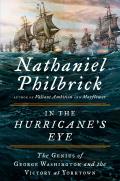 On Tuesday, 13 November, the
American Antiquarian Society
will host Nathaniel Philbrick speaking on the topic of
"The Naval Battle that Won the American Revolution."
This talk is based on Philbrick's latest book,
In the Hurricane's Eye: The Genius of George Washington and the Victory at Yorktown
. In retelling the history of that decisive campaign, this book focuses on its naval dimension and the Battle of the Chesapeake between the French and British navies.
In a
prepared interview
his publisher shared with History News Network, Philbrick spoke about that emphasis:
Since In the Heart of the Sea (2000) I have been making the point that before there was the wilderness of the American West, there was the wilderness of the sea. But I have to say even I was surprised by the impact that water had on the course of the Revolutionary War. As Washington realized from the very beginning of the alliance, the only way to defeat the British was with the help of the French navy. Only then could he break the British navy's stranglehold on the Eastern Seaboard and win the victory that made possible American independence. Ultimately the course of the war came down to America's proximity to the sea, the watery realm that I've been writing about since I moved to Nantucket 32 years ago.
Because of the ongoing construction to expand the A.A.S. building, this talk will take place across Park Avenue at the First Baptist Church, 111 Park Avenue in
Worcester
. Doors will open at 6:30 P.M., and the talk is due to start at 7:00. There is parking along Regent Street, Massachusetts Avenue, and Drury Lane, as well as in the lot at 90 Park Avenue.