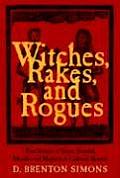 Last month I had the pleasure of chatting on video with D. Brenton Simons, president of the New England Historical and Genealogical Society, and Christian Di Spigna, author of
Founding Martyr
.
The conversation, set up by the Dr. Joseph Warren Historical Society, focused on Simons's work as a genealogist and head of the nation's oldest genealogical research library. We used connections to
Joseph Warren
to illuminate those topics.
For instance, I asked Simons to talk about one of the episodes from his well researched and entertaining book
Witches, Rakes, and Rogues
that led up to the 1765 bankruptcy of merchant
Nathaniel Wheelwright
. That failure influenced Warren in two ways:
his mother
was one of the many other people who also had to declare bankruptcy, and Warren himself ended up administering the Wheelwright estate for the probate court.
This interview was recorded on video (though I think the audio is all one really needs), and posted both in the
Dr. Joseph Warren Historical Society's series of interviews
and in the
N.E.H.G.S.'s new "Antiquarto" conversations
with Simons.