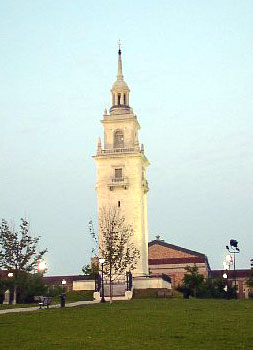 Here's how young merchant William Cheever recorded a decisive moment at the end of the siege of Boston in his diary (now online from the Massachusetts Historical Society):
5th [March 1776]. Last Night & this morning a very incessant Fireing from 1/2 past 7 in the even'g 'till 6 this morning: without much damage & this day at noon, Gen'l Howe notified that all Persons who intended to follow the Army should give in their names, as he must withdraw his Troops.
The first part of that "very incessant Fireing" from the American
artillery
was intended to distract from and cover up the noise of that army's overnight move onto
Dorchester
heights. (At the time those heights didn't include the monument shown here.)
On the morning of 5 March, the anniversary of the
Boston Massacre
, the new American battery on the Dorchester hills started firing as well. All that cannonading did relatively little damage, as Cheever noted, but it threatened the British shipping and fortified positions on the Neck.
As a longtime
Boston 1775
reader notes, Cheever's diary entry offers a telling perspective on Gen.
William Howe
's decision to evacuate the town. Even as he apparently made this public announcement that
Loyalists
should register to evacuate with his troops, Howe was also ordering his soldiers to prepare an attack on the Dorchester peninsula that evening or the next day.
A bad storm offered a reason to put off that assault, and the Americans continued to fortify their position on the hills. Howe's council of war formally decided to evacuate on 7 March. But obviously he was already preparing to do just that.
TOMORROW:
The big picture
.