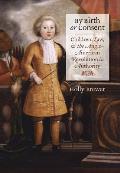 This month I listened in on some of the sessions of the
American Philosophical Society's "Meanings of Independence" conference
.
One of the panelists was Prof. Holly Brewer of the University of Maryland, author of
By Birth or Consent: Children, Law, and the Anglo-American Revolution in Authority
, published in 2005 and winner of three major prizes in the specialty of legal history.
Brewer mentioned her growing
website on "Slavery, Law, and Power"
in the Revolutionary period. As a taste of the features on that site,
here's a map
of the British Empire in the Americas at the time of the Revolution, labeling all the colonies.
In recent years it's become common to note that there were twenty-six British colonies in North America, so the thirteen mainland colonies that broke away were only half of the total. I've used the number twenty-six myself. It came up in the debate between Woody Holton and Gordon Wood that I also listened to this month and will discuss later.
However, Brewer counts
forty
British colonies, large and small, on that map. Her explanation of that count, which appears under the teal button with the horizontal line segments, begins: "Note that it is surrounded by a question of whether to count each colony separately or to count administrative units. I vote for the latter, since the 13 colonies that rebelled would be only 9 administrative units if counted separately. If we count them as 13, then the entire number should be 40."
And those forty colonies are—
The thirteen colonies that rebelled (if going by administrative units, the four New England colonies are one, and Delaware disappears into Pennsylvania)
Massachusetts (including Maine, of course)
New Hampshire
Connecticut
Rhode Island
New York (including Vermont, though New Hampshire would disagree)
New Jersey (East and West Jersey were united in 1702)
Pennsylvania
Delaware (had its own legislature but shared a governor with Pennsylvania and was considered part of that unit until 1776)
Maryland
Virginia
North Carolina
South Carolina
Georgia
Canada: six
Cape Breton Island
Newfoundland
Nova Scotia
Prince Edward Island
Quebec
Rupert's Land
Other North American mainland (Brewer counted only the two Floridas as colonies since the West was supposed to be off-limits to British settlers)
East Florida
West Florida
West (Indian Territory), after 1763 a separate unit
Leeward Islands (based on administrative structure it's possible to group these islands, but each had a separate assembly)
St. Christophers
Antigua
Barbuda
British Virgin Islands
Montserrat
Nevis
South Caribbean Islands
St. Vincent and the Grenadines
Tobago
Dominica
Grenada
Jamaica & Islands
Jamaica
Bay Islands (administered by Jamaica)
British Honduras (administered by Jamaica)
Cayman Islands (administered by Jamaica)
Bahamas
Barbados
Mosquito Coast
St. Lucia
Bermuda