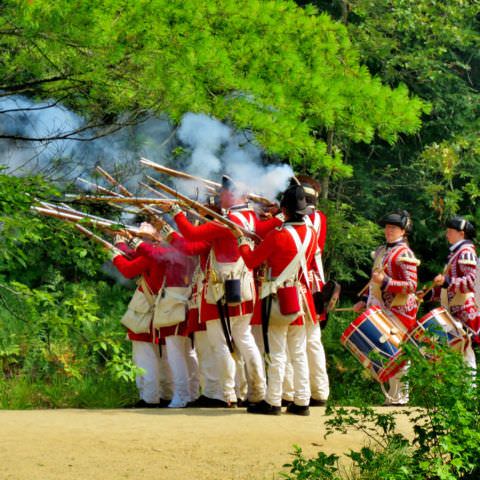 Next weekend Old Sturbridge Village will host its
annual "Redcoats and Rebels" reenactment
, usually the largest Revolutionary War event in New England.
Well, this event
was
annual until the pandemic. This is the first time it will be held since 2019.
Both Saturday and Sunday will offer:
Mock battles and skirmishes
Tours of the British and American camps
Cannon demonstrations
Musket drilling with kids
Martial music
Drilling and inspection of the troops
Episodes in the daily life of a Revolutionary War soldier, including delivery of uniforms, pay, and prisoners
The museum village, which represents life around 1830, will also be open as usual.
The encampment will be open on Saturday, 6 August, from 9:30 A.M. to 8:00 P.M. On Sunday, the museum buildings and camps will be open 9:30 A.M. to 5:00 P.M.
Standard admission or O.S.V. membership gets you into the village and the encampment. An adult paying the regular admission fee of $28 can bring up to three kids aged 4 to 17 and any number of kids aged 3 and under for free.
The museum asks people to buy their tickets in advance
through this page
, designating approximately what time they will arrive. That will help spread out the number of visitors them crowded together in the visitor center during the day. Most of the "Redcoats and Rebels" activities will take place outside.