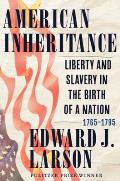 On Wednesday, 31 May, the Massachusetts Historical Society will host a talk by Edward J. Larson on his new book,
American Inheritance: Liberty & Slavery in the Birth of a Nation, 1765–1795
.
The publisher's description of the book says:
New attention from historians and journalists is raising pointed questions about the founding period: was the American revolution waged to preserve slavery, and was the Constitution a pact with slavery or a landmark in the antislavery movement? . . .

With slavery thriving in Britain's Caribbean empire and practiced in all of the American colonies, the independence movement's calls for liberty proved narrow, though some Black observers and others made their full implications clear. In the war, both sides employed strategies to draw needed support from free and enslaved Blacks, whose responses varied by local conditions. By the time of the Constitutional Convention, a widening sectional divide shaped the fateful compromises over slavery that would prove disastrous in the coming decades.

Larson's narrative delivers poignant moments that deepen our understanding: we witness New York's tumultuous welcome of Washington as liberator through the eyes of Daniel Payne, a Black man who had escaped enslavement at Mount Vernon two years before. Indeed, throughout Larson's history it is the voices of Black Americans that prove the most convincing of all on the urgency of liberty.
Larson is University Professor of History and Hugh and Hazel Darling Chair in Law at Pepperdine University. His books include
The Return of George Washington: Uniting the States, 1783-1789
;
A Magnificent Catastrophe: The Tumultuous Election of 1800, America's First Presidential Campaign
; and
Summer for the Gods: The Scopes Trial and America's Continuing Debate Over Science and Religion
, which received a Pulitzer Prize.
This talk will be a hybrid event. The Zoom feed will start at 6:00 P.M. while in-person attendees can enjoy a reception in the preceding half-hour.
Register for either form of access here
.