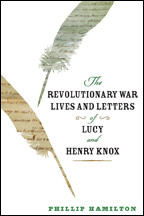 You'd think the date when
Lucy Flucker
and
Henry Knox
got married would be well established in all that's published about them.
After all, Flucker was a daughter of the royal government's
third-highest Massachusetts official
. All the Boston newspapers reported on her wedding, followed by the newspapers in Essex County.
As for Knox, he was obscure then, but he came out of the Revolutionary War as one of the most prominent Bostonians in the country and has remained famous.
But if we look in biographies of Henry Knox, they give wedding dates all over the calendar:
16 June 1771: Joseph W. Porter, "Memoir of Gen. Henry Knox, of Thomaston, Maine," Bangor Historical Magazine (1890); Alan Taylor, Liberty Men and Great Proprietors (1990), stating that the marriage happened in 1771.
16 June 1774: Francis S. Drake, Life and Correspondence of Henry Knox (1873); Noah Brooks, Henry Knox: A Soldier of the Revolution (1900); Pamela Murrow, Unending Passions: The Knox Letters (2010); Nancy Rubin Stuart, Defiant Brides: The Untold Story of Two Revolutionary-Era Women and the Radical Men They Married (2014).
20 June 1774: Mark Puls, Henry Knox: Visionary General of the American Revolution (2008); William Hazelgrove, Henry Knox's Noble Train (2020).
23 June 1774: Thomas Morgan Griffiths, Major General Henry Knox and the Last Heirs of Montpelier (1965); Phillip Hamilton, The Revolutionary War Lives and Letters of Lucy and Henry Knox (2017).
In addition, North Callahan's
Henry Knox: General Washington's General
(1958) didn't state a date, but it quoted a 27 June 1774 newspaper item referring to a wedding "Last Thursday," and readers with perpetual calendars could do the math.
So let's start with the earliest biography: Drake's from 1873. For his information on the wedding Drake credited "the 'Gazette' of June 20, 1774." But he ran into a series of confusions.
Drake almost certainly looked at the
Massachusetts Gazette and Boston Post-Boy
. Unfortunately, two newspapers from two separate print shops were sharing the
Massachusetts Gazette
name, and there was also a
Boston Gazette
. For clarity, I always refer to papers by their unique title, in this case the
Boston Post-Boy
.
The second unfortunate detail is that the publishers of the
Post-Boy
,
Mills and Hicks
, were the only Boston
printers
to date their issues with a date range rather than the date of issue. In other words, the newspaper they published on 27 June 1774 had this line under its masthead:
From MONDAY, June 20, to MONDAY, June 27, 1774.
Drake stumbled into an error by reading that issue of the
Post-Boy
as coming out on 20 June rather than a week later.
The third glitch was that the marriage notices in all the papers didn't state the date of the wedding but said: "Last Thursday was Married…" Drake counted back from 20 June, making "Last Thursday" 16 June. In turn, his book misled an entire line of later authors. The way-off date in Porter's
Bangor Historical Magazine
article is obviously a typo based on Drake.
Puls, it appears, mistook the 20 June date of the newspaper for the date of the wedding itself. Hazelgrove's passages on Knox's early life are almost sentence-by-sentence adaptations of Puls, so he replicated that error.
Griffiths, with the detail focus of a genealogist, and Hamilton, the only academic historian in this group [besides Taylor], got the date right. Callahan provided accurate information. Not only do we have the multiple newspapers appearing on 27 and 30 June and referring back to the previous Thursday, but we also have the records of King's Chapel,
available through the Colonial Society of Massachusetts
.
Henry Knox and Lucy Flucker got married on 23 June 1774.