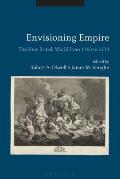 On Wednesday, 24 May, the American Revolution Institute in Washington, D.C., will host a talk by Prof. James M. Vaughn of the University of Chicago on
"On Tea, Taxes and World History: The British East India Company and the Origins of the American Revolution."
The event description says:
In May 1773, Parliament passed the Tea Act, which instituted a tax of three cents per pound on all British tea sold in America. The act effectively granted a monopoly on the sale of tea in the American colonies to the British East India Company, which was looking to reduce its excessive stores of tea and relieve its financial burdens.

To commemorate the 250th anniversary of the Tea Act's passage, James Vaughn, a historian of the British Empire at the University of Chicago, examines the developments in Britain, British North America and South Asia leading to the passage of the act, and discusses why a relatively mundane piece of parliamentary legislation renewed the imperial crisis and led to the outbreak of the American Revolution.
Vaughn is a professor at the University of Chicago. His research focuses on the British Empire and Atlantic world during the eighteenth century. He is the author of
The Politics of Empire at the Accession of George III: The East India Company and the Crisis and Transformation of Britain's Imperial State
and co-editor of
Envisioning Empire: The New British World from 1763 to 1773
.
Vaughn is currently preparing "a book on the American Revolution and the origins of liberal democracy in global context."
This talk will also be available for viewing online, starting at 6:30 P.M.
Register through this page.