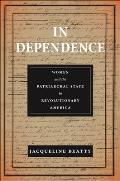 On Friday, 19 May, the Old State House will
host a discussion
between Jacqueline Beatty and Daniel Carpenter about Dr. Beatty's new book,
In Dependence: Women and the Patriarchal State in Revolutionary America
.
The event description explains:
Through a close review of thousands of legislative, judicial, and institutional pleas across 70 years of history in three urban centers, Dr. Beatty illustrates the ways in which women in the Revolutionary era asserted their status as dependents, demanding the protections owed to them as the assumed subordinates of men. In Dependence shows how women's coming to consciousness as rights-bearing individuals laid the groundwork for the activism and collective petitioning efforts of later generations of American feminists.
Jacqueline Beatty is an Assistant Professor of History at York College of Pennsylvania. She received her bachelor's degree from Boston College and returned to this metropolis for part of her research into women's lives in Boston, Charleston, and Philadelphia.
Daniel Carpenter is the Allie S. Freed Professor of Government and Chair of the Department of Government at Harvard University. Like Beatty, he has examined citizens' petitions to their governments. His
Democracy by Petition: Popular Politics in Transformation, 1790-1870
received the James P. Hanlan Book Award from the New England Historical Association, among other honors.
This is an in-person event starting at 5:30 P.M. at the Old State House, with the program scheduled for 6:00. It is co-sponsored by Mass N.O.W. and the Royall House and Slave Quarters, and financially supported by the Lowell Institute. The event is free to the public, but
advance registration is recommended
.
For people who can't attend at the Old State House, here are a couple of other ways to learn about
In Dependence
.