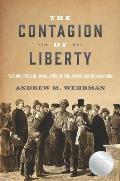 The journal Nature just published
Heidi Ledford's review
of
The Contagion of Liberty: The Politics of Smallpox in the American Revolution
by Andrew M. Wehrman.
Ledford, a senior reporter at the magazine, writes:
As revolutionary sentiment simmered, the colonies cycled through a series of smallpox outbreaks; each city mounted its own response. Wehrman recounts in exhaustive detail the debates and votes in a handful of towns as citizens grappled with when to allow inoculation, who should receive it and how it should be administered. At times, it's hard to see where this is all heading.

Eventually, Wehrman's point becomes clear. Riots over access to inoculation and public bickering about how it should be done give way to consensus as the fledgling nation emerges from war: smallpox inoculation saves lives, and the country's new government should ensure that it is available. Communities discuss pre-emptive inoculations, systematically administered to all children rather than waiting for an outbreak. There is talk of trying to eliminate smallpox altogether.

And then that commitment disintegrated. By 1800, a vaccine had emerged. It contained the cowpox virus — related to smallpox and thus capable of generating immunity against it, but incapable of passing between humans, and so with no risk of seeding outbreaks. Suddenly, administration of the vaccine did not pose communal risk; therefore, its distribution did not inspire communal action.

Efforts to launch vaccination campaigns foundered in the face of rampant misinformation, competing business interests and a smallpox-weary public. (Sound familiar?) Outbreaks continued, albeit at a much slower pace than before, and the United States — once a proud leader in smallpox immunizations — slipped behind its counterparts in Europe and beyond. Wehrman flies through this part of his story, but after the three years we've just had, it feels so familiar that more detail seems unnecessary.
Wehrman will discuss his new book in a couple of online events next week: