The shooting of Christopher Seider led on to the Boston Massacre, one of the major milestones on the road to the American Revolution. The 250th anniversary of the Massacre will be 5 March 2020, but it's such a big event that there will be multiple commemorations in early March.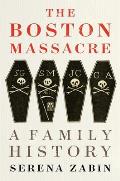 First, Prof. Serena Zabin in coming to New England to discuss her new book,
The Boston Massacre: A Family History
. The publisher explains:
Zabin draws on original sources and lively stories to follow British troops as they are dispatched from Ireland to Boston in 1768 to subdue the increasingly rebellious colonists. She reveals a forgotten world hidden in plain sight: the many regimental wives and children who accompanied the armies. We see these families jostling with Bostonians for living space, finding common cause in the search for a lost child, trading barbs, and sharing baptisms. Becoming, in other words, neighbors. When soldiers shot unarmed citizens in the street, it was these intensely human and now broken bonds that fueled what quickly became a bitterly fought American Revolution.
Visit
Zabin's webpage
for the full list of her upcoming events. Some require advance registration, so also check in with the host organizations. Here are the public events scheduled for New England.
Wednesday, 4 March, 5:30-7:00 P.M.
Massachusetts Historical Society, Boston
Thursday, 5 March, 6:00 P.M.
Boston Public Library, Boston
Friday, 6 March, 7:00 P.M.
Harvard Book Store, Cambridge
Saturday, 7 March, 2:00 P.M.
Tewksbury Public Library, Tewksbury
Tuesday, 10 March, 7:00 P.M.
Cary Memorial Library, Lexington
Thursday, 12 March, 5:30 P.M.
Newport Historical Society, Newport, Rhode Island
On the exact anniversary of the Massacre, I know of five events.
Thursday, 5 March, 9:00-9:30 A.M.
Old Granary Burying-Ground, Boston
The
National Society of the Daughters of the American Revolution
lays a wreath at the grave of the five victims of the shooting.
Thursday, 5 March, all day
Old State House, Boston
(with admission)
A new exhibit titled "Reflecting Attucks" will open in Representatives' Hall, exploring the life and memory of
Crispus Attucks
. There will be related tours and facilitated dialogues in the galleries. This exhibit will be on display until March 2021.
Thursday, 5 March, 12:00 noon
Boston Athenaeum, Boston
($10 for non-members)
Curator Ginny Badgett displays and discusses the society's copy of
Paul Revere
's engraving of the Boston Massacre.
Thursday, 5 March, 2:00-2:30 P.M.
Concord Museum, Concord
(with admission)
Executive Director Tom Putnam discusses the Massacre and its legacy in a gallery talk using multiple editions and interpretations of Paul Revere's print being shown in the exhibit "Beyond Midnight: Paul Revere and His Ride."
Thursday, 5 March, 6:30-8:00 P.M.
Old South Meeting House, Boston
Revolutionary Spaces hosts
political and community leaders speaking on their lives in the Boston Massacre and reflect on how difficult memories can inspire us to reach higher.
Finally, on Saturday I'm part of the group of volunteers putting together a Sestercentennial reenactment of the Massacre and surrounding events with
Revolutionary Spaces
and the
Newport Historical Society's History Space
.
Saturday, 7 March, afternoon and evening
The reenactments fall into two parts,
"Life Before the Boston Massacre"
in the afternoon and
"Incident on King Street"
in the evening. Some events will take place inside the
Old State House
and
Old South Meeting House
, and the price for admission to both buildings is $12. Other reenactments will take place outside and will be free to the public, including puzzled passersby.
Inside the Old State House
,
1:00 to 4:00 P.M.
(with admission)
Boston
selectmen
dealing with issues of the day
Women of Boston discussing recent events
Inside Old South Meeting House
,
1:00 to 4:00 P.M.
(with admission)
Visits to the Royal Exchange Tavern, the Boston almshouse, an elegant
tea
, and the office of
ropewalk
owner
John Gray
Demonstrations
of leatherworking, sewing a sailor's hammock, and recreating a British regimental coat
Talk on recreating the
uniforms
of the 29th Regiment,
4:00 P.M.
Inside Faneuil Hall
At the
Edes & Gill Print Shop
, 1:00 to 4:00 P.M.
Henry Pelham
and Paul Revere argue about their Boston Massacre engravings
In the Great Hall,
3:00 to 3:30 P.M.
Vengeance or Justice?
: National Park Service rangers lead a participatory town meeting on the aftermath of the shooting
Outside the Old State House
Changing of the guard,
1:00 P.M.
Children harass a sentry with a football,
1:15 P.M.
Isabella Montgomery
disputes with Susannah Cathcart,
4:30 P.M.
Along Washington Street
First-person interpretive walks discussing life in 1770
From Old South to the Old State House,
on the half-hour from 1:30 to 4:30 P.M.
From the Old State House to Old South,
on the hour from 2:00 to 4:00 P.M.
At Washington and School Streets
(near the godawful Irish Famine Memorial)
Sons of Liberty
songs
,
1:30 and 3:15 P.M.
Rope Walk
brawl
and public discussion,
2:15 P.M.
Outside the Old State House
,
starting around 7:00 P.M.
Vignettes of Life in Occupied Boston and the Shooting on King Street
To be followed by a ceremony of remembrance
Once again, I've been working with the reenactors on the scenario they'll portray and will be the play-by-play announcer.