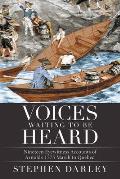 Earlier this week
I mentioned Stephen Darley's 2011 book
Voices from a Wilderness Expedition
, a bibliography of all known diaries and first-person accounts of Col.
Benedict Arnold
's trek to
Québec
in 1775 and a listing of all the men on that march.
That book also included the transcripts of five diaries not previously published or noted in the last edition of Kenneth Roberts's
March to Quebec
.
This year Darley published a new collection,
Voices Waiting to Be Heard
, with transcriptions of nineteen accounts of the expedition, some discovered in the last decade. The earliest actually appeared in the
Pennsylvania Packet
in March 1779.
In 2013, Darley and Stephen Burk published an article in
Early American Review
, which
can be read here
. It tackled the question of who wrote a diary of the expedition published in
The American Antiquarian and Oriental Journal
in 1900 without a name, still anonymous at the time of Darley's first book.
Burk and Darley wrote:
From the pages of his journal it is apparent that the anonymous author was a Massachusetts soldier and that he had been in a Captain Smith's company prior to transferring to Captain Hubbard's company for the March to Quebec. He also mentions having a brother on the March although it is not evident whether both men were in the same company. The journal states that the author's brother died "with fever and flux" on Dec. 28, 1775 near Quebec. Also, journal entries make clear that the author was not among the many that were taken prisoner during the Dec. 31 assault on the walled city of Quebec.
Using the listing of men in Darley's book, the researchers found three named Pierce (or Peirce) in Capt. Jonas Hubbard's company. David Pierce died during the march. John and William Pierce avoided both death and capture. But did either of them keep a diary?
In fact, they both did. Ens. John Pierce's journal was published in Roberts's compilation. One entry reads: "David Peirce…was taken again all on a sudden and died in a few days he had no senses after he was taken the last time –Adiu to my Friend and Namesake." That doesn't sound like a brother, just a man with the same last name.
Furthermore, Ens. Pierce was from
Worcester
, but David and William Pierce enlisted together from
Hadley
. They both served in Capt.
Eliakim Smith
's company starting with the
Lexington
Alarm.
Those details confirmed William Pierce as the anonymous diarist first published in 1900. Knowing his name, Burk and Darley could fill out more details of the brothers' lives. William was born in 1752, David two years later. Their father, a
Harvard
graduate, represented Hadley in the
Massachusetts Provincial Congress
.
David Pierce died just before Gen.
Richard Montgomery
led his doomed attack on Québec. William Pierce was sick that day, thus unable to fight. He remained with the
Continental Army
during its withdrawal in 1776 and was back in Hadley that summer. Pierce never married, dying in Hadley in 1832. Burk and Darley even found his gravestone.
All told, there are now thirty-eight known first-person accounts of the Arnold expedition, making it one of the most individually documented campaigns of the war. All the more striking since we usually hear about it as an event that took place in the wilderness under conditions that don't seem conducive for keeping a diary.