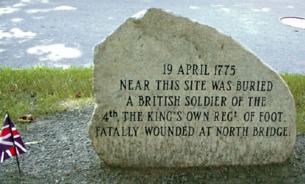 Yesterday's posting included a recent photograph of the monument marking the grave of two British soldiers who died in the skirmish at the North Bridge in Concord. That tablet, with lines by the poet James Russell Lowell, has been on the site for decades.

In recent years, as D. Michael Ryan's article from 2000 describes, Concord installed a stone marker on the site linked to a third soldier said to be fatally wounded in that fight. Concord chronicler Lemuel Shattuck had described his burial according to the landmarks of his time, and local research in real estate records relocated the approximate spot.

Ryan's article states that the names of the three British soldiers buried in those places are Thomas Smith, Patrick Gray, and James Hall. Minute Man National Historical Park, Wikipedia, and the Silver Whistle site that supplied the photo above say the same.

How did Ryan and other historians arrive at those three names? They looked at the muster rolls for the company of His Majesty's 4th Regiment known to be at the North Bridge. They counted which men were listed as killed or missing after the Concord march. Three names of three privates—three bodies—case solved!

But a few years ago Dan Lacroix of Westford shared some research that convinced me that neither of those graves probably contains the remains of Pvt. James Hall of the 4th. You'll see some of that research tomorrow. Dan is more careful about that conclusion than I am; for one thing, the name "James Hall" was common enough that it's hard to rule out the possibility of two men with that name, a lucky confluence like Hezekiah Wyman. But see what you think. Is James Hall buried in Concord?

TOMORROW: Or, would you believe, Vermont?