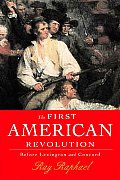 Another anniversary coming up next year is the 240th of the uprising that ended royal rule in Worcester County. Okay, that's not a
sestercentennial
, but I sense the local history community wants to raise awareness of that transition and institute a commemoration so as to be ready for its 250th.
On 6 Sept 1774, 4,622 militiamen from 37 county towns marched into
Worcester
to stop the county court from meeting. This was part of a series of crowd actions all over Massachusetts as the populace protested
Parliament
's
Coercive Acts
and refused to cooperate with royal appointees.
That fall, month towns were also electing representatives to the
Massachusetts General Court
or, in case Gov.
Thomas Gage
refused to call that legislature back into session, a
Massachusetts Provincial Congress
. The Worcester town meeting elected blacksmith
Timothy Bigelow
as its representative to the congress, a role traditionally reserved for upper-class gentlemen.
Furthermore, in its instructions for Bigelow, the Worcester town meeting declared:
you are to consider the people of this province…to all intents and purposes reduced to a state of nature; and you are to exert yourself in devising ways and means to raise from the dissolution of the old constitution, as from the ashes of the Phenix, a new form, wherein all officers shall be dependent on the suffrages of the people, whatever unfavorable constructions our enemies may put upon such procedure.
This went further than the resolutions of other towns in the same period, in effect a declaration of independence. It wasn't an explicit break with the British Empire or king, but it was based on the same political philosophy that led to the
Continental Congress
's
Declaration
over a year and a half later.
A group of historic and cultural organizations in Worcester County is planning a commemoration of this "Worcester Revolution of 1774." Their effort has started with the
www.revolution1774.org
website. They envision a series of events over the course of next year, such as:
A county-wide reading of Ray Raphael's The First American Revolution: Before Lexington and Concord, which highlights central Massachusetts in 1774, through local book clubs and libraries.
Walking tours and narratives of historic locations.
Concerts by colonial music groups in the open air and concert halls.
Presentations by authors and academics on colonial Worcester County and 1774.
Visits by re-enactors to Worcester Public School classrooms.
Teacher workshops on 1774.
Museum exhibits, lectures, and more.
On 7 September there will be a free, day-long public celebration on Worcester Common, with historic reenactors and craftsmen and a dramatic presentation about the Revolutionary events.
The organizing consortium includes the
American Antiquarian Society
, Assumption College, Congress of American Revolution Round Tables, Daughters of the American Revolution Massachusetts Society,
Old Sturbridge Village
, Preservation Worcester, Sons of the American Revolution Massachusetts Society, Tenth Regiment of Foot, Worcester Historical Museum, and Worcester Public Schools. The Worcester Historical Museum is the fiscal agent for grants and donations to this project.