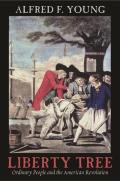 It took until 16 Sept 1765 for
Edes and Gill
's
Boston Gazette
to report on the ceremony that gave a name to
Liberty Tree
. And by then the paper had to respond to the earlier report in the
Boston News-Letter
(full title:
Massachusetts Gazette and Boston News-Letter
).
Here's the
Boston Gazette
spin:
The Great Tree at the South End of the Town, upon which the Effigies of a Stamp Master was lately hung, was honour'd last Wednesday with the Name of, THE TREE OF LIBERTY; a large Plate of Copper, with that inscription, in Letters of Gold, being fixed thereon.

Upon the News of the Change of the Ministry [in London], a Number of Persons well affected to Liberty and their Country, met together, and fixed their Standard upon the Tree of Liberty—being the Union Flag, inscribed, PITT THE SUPPORTER OF LIBERTY AND THE TERROR OF TYRANTS—On the other Side,


To B—te and G—n—e, mark the Event,
Both Heaven and Earth are Foes,
While Curses on each Wretch are sent
By every Wind that blows.
GOD Save the KING.

Twenty-one Chambers were planted upon the Square under the Tree, which they now call Hanover Square, and after discharging several Rounds, and drinking his Majesty's and other loyal Healths, they struck their Flagg and dispser'd, and the Street was clear an Hour before Sun set, having agreed among themselves so to do, that no Occasion of Disorder in the Night might be taken from their assembling.
The
Boston Gazette
thus portrayed the Stamp Act protesters as the epitome of British patriotism—flying the
flag
, naming the crossroads after
a "decidedly Whig" square in London
, hailing the popular wartime prime minister
William Pitt
, and of course praising King
George III
.
(As to those "Chambers," the
Royal Dictionary
of 1728 defined that plural word as "a Sort of Fireworks.")
There was still the matter of an accusatory paragraph in the rival newspaper:
Notwithstanding the low, sneering Misrepresentation in the [Massachusetts] Gazette of Thursday last, the Captain of the Train of Artillery had proper Orders from his superior Officer to discharge his Cannon on the joyful News of the Change of the Ministry, however disagreeable it might be to the Commander in Chief: And there was no Design to Insult the Governor and Council as a certain Person was pleas'd to suggest, and seems slyly insinuated by the EXCELLENT Writer of that Paragraph.
The word "EXCELLENT" looks like the
Boston Gazette
's own sly insinuation about His Excellency, Gov.
Francis Bernard
.
As Alfred F. Young argues in
Liberty Tree
, town leaders thus moved to seize control of public anger. They elevated the daytime demonstration of 14 August as honorable and patriotic while discouraging any repetition of the 26 August house-mobbings. Liberty Tree was both a symbol of resistance to tyrannical new measures and a tool for channeling that resistance into acceptable forms.