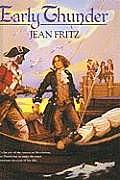 The author Jean Fritz died earlier this month at the age of 101. Obituaries in the
New York Times
and
Washington Post
described how she was born and raised in China, a daughter of American missionaries, and started to research her country's history from afar.
Fritz most widely read books are biographies of famous Americans, many of them from the Revolutionary period, for young readers. Those books took various forms, but most were short and well illustrated by some of the industry's rising stars. The first batch was published into the Bicentennial but proved popular and solidly researched enough to remain in print for decades, even as standards for juvenile nonfiction became more demanding:
And Then What Happened, Paul Revere? (1973)
Why Don't You Get a Horse, Sam Adams? (1974)
Will You Sign Here, John Hancock? (1975)
Where Was Patrick Henry on the 29th of May? (1975)
Can't You Make Them Behave, King George? (1976)
Shh! We're Writing the Constitution (1976)
Traitor: The Case of Benedict Arnold (1981)
What's the Big Idea, Ben Franklin? (1988)
The Great Little Madison (1989)
George Washington's Mother (1992)
Why Not Lafayette? (1999)
Alexander Hamilton: The Outsider (2011)
Early in her career Fritz also wrote three historical novels for children touching on the eighteenth century:
The Cabin Faced West (1958) about frontier Pennsylvania in 1784, with a cameo appearance by Washington.
Early Thunder (1967), set in Salem just before the Revolutionary War begins.
George Washington's Breakfast (1969), dramatizing the process of historical research.
In
this interview by schoolchildren
, Fritz told how one of those novels led to one of her biographies:
I had written Early Thunder, which was a fictional story that took place in Salem, Massachusetts, right before the Revolution. It was around the time of the bicentennial. And a TV station called me and they wanted to make it into a movie. But they changed their minds because there was no chase in the story! So I thought of the story of Benedict Arnold, and there was a chase in that story, so I decided to tell it.
Finally, Fritz's only book for adults was
Cast for a Revolution: Some American Friends and Enemies, 1728–1814
(1972), about Mercy Warren and her circle.