I came across the 1818 recollections of the Battle of Bunker Hill that I shared last week while writing a new article for the Journal of the American Revolution website: "Who Said, 'Don't Fire Till You See the Whites of Their Eyes'?"

Way back in 2007, I wrote a Boston 1775 posting with that title, a lead-in to a discussion of how Thomas Carlyle alerted American historians to Prussian leaders using a similar phrase in the mid-1700s. Blogger tells me that posting has received more pageviews than any other on this site—which is a bit embarrassing since a few years later I decided that was just a side issue.

In 2014 I came across early publications of the "whites of their eyes" quotation that trace back to Israel Putnam. That led to further postings about that phrase appearing in British military sources before the first American publication and even before 1775.

For the new J.A.R. article I combined all the Boston 1775 postings about the famous quotation with some new material. I hope it's an enjoyable read.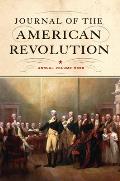 In more Journal of the American Revolution news, an early copy of the
latest annual volume
of articles collected from the website arrived here at headquarters.
It contains
my article
on stories about the signing of the
Declaration of Independence
. Which anecdotes can be traced back to men in the room where that happened, and which are totally unreliable?
In preparing that article for the print publication, I found an earlier source of the anecdote about
John Adams
and
Stephen Hopkins
at the signing. That prompted me to explore if
Philadelphia Public Ledger
editor Russell Jarvis was the anonymous journalist who first put that story into print. That possibility is still speculative enough to belong in a footnote, but it's a long, substantial footnote, and it's found only in the printed volume.