As I described yesterday, Boston's bronze statue of Dr. Joseph Warren now stands in a courtyard at the Roxbury Latin School in West Roxbury. In 2011, the Boston Globe suggested that the city should find a more public site. But where?

One possibility is simply to leave the statue where it is. The school seems to care for it well. It might inspire the 300 boys who study there. Most telling, since the Globe's editorial no other institution appears to have stepped forward with more enthusiasm about the statue.

Another possibility is, of course, back at Warren Square in Roxbury, the statue's original site. That was fairly close to where Warren grew up. The traffic island where the statue originally stood is now too small, but there are some green spaces in the area, some already labeled with the Warren name. Yet neighbors might well see more to admire in Phillis Wheatley, honored in a nearby park, than in the slaveholding doctor.

Here's a third possibility: the approximate site of the house Dr. Warren was renting in 1775, the year he sent William Dawes and Paul Revere to Lexington and the year in which he died at the Battle of Bunker Hill. But where was that?

Earlier this year Charles Bahne looked into that question for Dr. Samuel Forman's blog on Dr. Warren. A strong nineteenth-century tradition held that the American Hotel stood on the site of that house. So locating the hotel on nineteenth-century maps helps to locate the house.

And lo and behold, the spot's on public land, near the established Freedom Trail, in an area that could use some friendly faces: Government Center Plaza.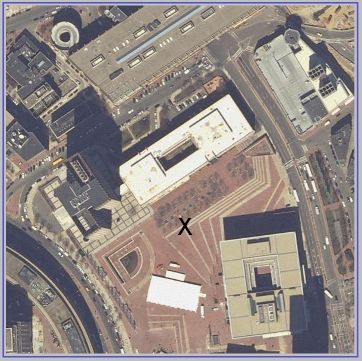 As
Boston 1775
reader Mark Jacobson pointed out this week, right now there isn't even a plaque to identify that site as important to the start of the Revolutionary War.