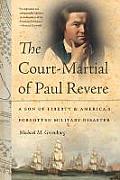 Fans of
Paul Revere
can attend two talks about his Revolutionary activities
beyond
his famous and less-famous rides of 1774 and 1775.
Friday, 20 March, 12:15 P.M.
Old South Meeting House
The Picture of Innocence: Symbols and Propaganda from the Boston Massacre
The
Boston Massacre
became infamous throughout the American colonies in a matter of weeks. Patriot leaders immediately circulated the news with heavy doses of
propaganda
. So what really happened on March 5, 1770? Historian and Old South Meeting House Educator Tegan Kehoe will walk you through the facts and fictions of Paul Revere's famous print and several other contemporary depictions of the "bloody massacre on King Street."
Admission $6; free for Old South Meeting House members.
Wednesday, 25 March, 6:30 P.M.
Old North Church
Paul Revere: Beyond the Midnight Ride
Author and attorney Michael Greenburg will talk about Revere's lesser-known travails and ultimate court-martial following the doomed Penobscot Expedition, an often-ignored chapter in the life of this beloved American icon. Following the lecture will be a reception and book signing of Greenburg's book,
The Court Martial of Paul Revere: A Son of Liberty & America's Forgotten Military Disaster
.
Free and open to the public.
One nice thing about lectures in these eighteenth-century Boston churches is that you can almost always get a seat. A hard, flat seat.