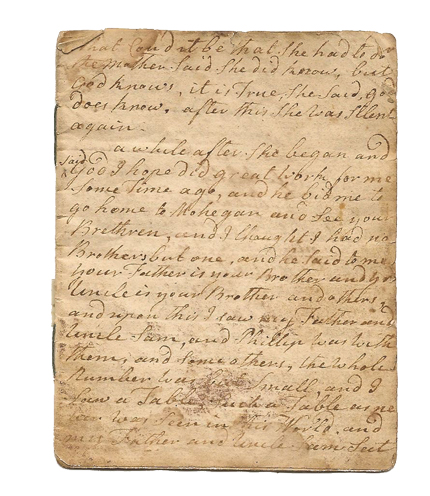 A recent issue of the
Yale
magazine offered a
look at a newly recognized document
in the handwriting of the Rev.
Samson Occom
. Apparently in 1776 he took down the deathbed statement of a young woman:
That December, a daughter of Mohegan leader Robert Ashbow, motivated by a religious vision, returned home after what appears to have been a long absence. By the end of the month, the young woman was dying. On Christmas Eve, Occom wrote an account of the last moments of her life, which included a conversation with her mother. (The daughter's name, unfortunately, is never given.)

The beginning is typical for Christian deathbed narratives—a confirmation of belief in God and an acceptance of death. But then the woman declares, "No one that fights Shall ever enter the Kingdom of Heaven, nor them that Cary Sharp Weapons and Heavy things for the first Christians did not fight but were Loving." She adds that her aunt Hannah thought herself "better and above" Hannah's daughter-in-law, Jerusha, but Jerusha had "better inheritance." These are unusual, unexplained statements.

At first, we thought "inheritance" referred to spiritual redemption. But as we reconstructed the lives of the people in the narrative, another explanation seemed plausible. Hannah's husband, we found, was Rev. Samuel Ashbow, Robert Ashbow's brother. The couple had lost one of their sons, Samuel Jr., at Bunker Hill—the first Native American killed in the Revolution. For Hannah and Samuel, that death would begin their family tragedy: they would lose three more sons before the war was over. On the other hand, Jerusha, the widow of Samuel Jr., had a young son whose life was just beginning. Were the dying woman's remarks a comment on the futility of war? A portent of the immense physical and cultural losses the Mohegans would endure as a result of that war?
Did they reflect that particular moment during the war in late 1776, when the royal forces were handily dispatching the
Continental Army
and armed resistance seemed like a poor idea? With so few written sources preserved, we're unlikely to have the answers to those questions.
The same magazine also notes a
rare harpsichord from about 1770
that somebody decided to make look like an even rarer harpsichord from several decades before.