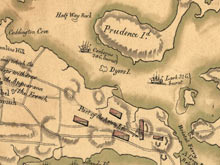 Boston 1775
has periodically passed on news about the final resting-place of some
Royal Navy
ships notable in the Revolution:
Here's another ship in that catalogue.
H.M.S.
Cerberus
famously arrived in Boston in May 1775 carrying three generals to assist Gov.
Thomas Gage
:
William Howe
,
John Burgoyne
, and
Henry Clinton
. A frigate named after a mythological three-headed monster could hardly have been a better gift for Patriot
propagandists
.
(The
Earl of Sandwich
, frequent First Lord of the Admiralty, liked naming warships after figures from classical mythology. Though he wasn't in that office in 1758 when the
Cerberus
was launched, his preference had taken hold.)
The
Cerberus
was involved in the fight over Noddle's Island and the Battle of Bunker Hill before returning to Britain with news of that disastrous victory. By the end of the year the warship was back along the American coast, patrolling east of New York's Long Island. It helped the British military take over Newport in December 1776.
On 14 Aug 1777, the submarine inventor
David Bushnell
targeted the
Cerberus
off New London,
Connecticut
, with another invention: the floating mine. However, some of the warship's sailors spotted one of Bushnell's explosive barrels and hauled it aboard their boat. The device went off, killing three and wounding one.
In July 1778 H.M.S.
Cerberus
was back in Narragansett Bay when the first
French
fleet arrived. After several days of maneuvering, on 5 August it and three other frigates were chased down by two much larger French warships. The British captains chose to run their vessels aground and set them on fire rather than let them be captured.
In the 1970s a graduate student in archeology discovered the wreck of the
Cerberus
off Prudence Island. Very little of the frigate was left.
That site
is now protected by federal law.