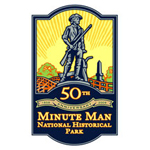 Every year, Massachusetts historical institutions try to make the end of summer a little easier with a flurry of public events in September and October. This month there are so many they're landing on top of each other.

So over the next week I'll highlight upcoming local events focused on the Revolutionary period, with links to the hosting organizations. Check out the schedules posted on those websites for listings of even more events.

To start off, I myself will be presenting at Minute Man National Historical Park's first 18th Century Research Forum on Thursday, 17 September. My topic is "Tracking Down Deserters." By that I mean not the armies' efforts to bring men back to the ranks, but the historiographical quest to find those men in the historical records. Here's the précis:
Men who deserted from the British Army to the Continentals (or vice versa) are among the most intriguing characters of the Revolutionary War. Researching them is especially knotty because sources on their lives are often far apart in perspective, not to mention distance. Furthermore, those men had good reasons to conceal their pasts—so well in some cases that our standard histories still tell their cover stories.
I'll talk about
John Moies
,
Andrew Brown
, and a prominent captain in the Continental
artillery
. I view these investigations as ongoing, so I hope to speak informally about the research process, and look forward to hearing about other people's projects and interests.
This event starts at 7:30 P.M. in the Minute Man Visitor Center, 250 North Great Road in Lincoln. All are welcome. Future forums will be held every other month until March.