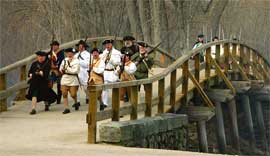 At the end of 19 Apr 1775, the people of
Concord
faced a big problem. Massachusetts was, of course, now in armed rebellion against the royal authorities holding the province's capital. There were dead and dying royal soldiers in town. But Concord shared those problems with other towns.
The big problem specific to Concord was that one of those
British soldiers
had not only been shot but had obviously suffered a major head wound inflicted at close range. An inhabitant named
Ammi White
, born about 1754, had struck a wounded and defenseless man with his hatchet. The town's minister, the Rev.
William Emerson
, had apparently seen him do this. See
D. Michael Ryan's article
for more detail.
Concordians dug a grave for the soldiers who died near the North Bridge, put the bodies inside, and covered them up. But then Gen.
Thomas Gage
had a "Circumstantial Account" of the battle published in Boston, and (as
quoted yesterday
) it said that one soldier at the bridge had been "scalped, his head much mangled, and his ears cut off, though not quite dead." So that required a response.
The
Massachusetts Provincial Congress
published
its own report
complaining about British soldiers' behavior, particularly later in the day. That narrative also stated:
A paper having been printed in Boston, representing, that one of the British troops killed at the bridge at Concord, was scalped, and the ears cut off from the head, supposed to be done in order to dishonour the Massachusetts people, and to make them appear to be savage and barbarous, the following deposition was taken that the truth might be known.


We, the subscribers, of lawful age, testify and say, that we buried the dead bodies of the King's troops that were killed at the North-Bridge in Concord, on the nineteenth day of April, 1775, where the action first began, and that neither of those persons were scalped, nor their ears cut off, as has been represented.

Zechariah Brown,
Thomas Davis, jun.

Concord, May 11th, 1775.
Those men gave their oath to magistrate Duncan Ingraham. As a merchant captain, he had been part of the genteel mob that attacked
Loyalist
printer
John Mein
in Boston in 1769. He retired to Concord in 1772 and two years later acted friendly enough with British army officers to have a Patriot mob attack him—symbolically, by attaching a sheep's head and guts to his chaise.
By May 1775, however, Ingraham was firmly among the Patriots. The deposition he helped create deflected Gage's specific charges: scalping and cutting off ears. Brown and Davis didn't say anything about whether they'd noticed if one of those soldiers had suffered a terrible head wound. As with many other depositions that the Massachusetts Whigs collected in the 1770s, I think this testimony was the truth but not the whole truth.
TOMORROW: Did that bury the controversy?