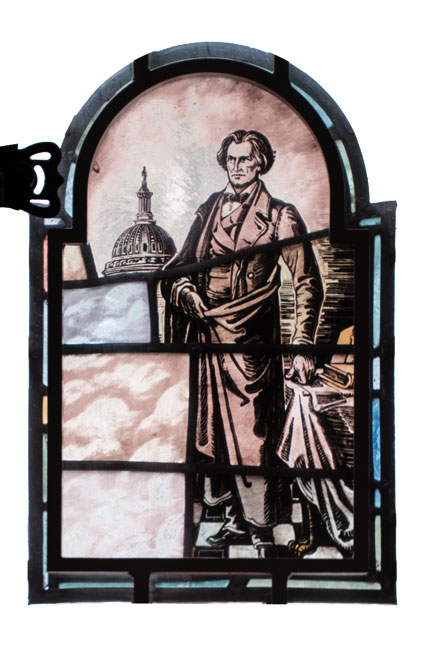 At
Yale
, one of the dormitories for upperclassmen (called "residential colleges") is named after
John C. Calhoun
, the U.S. Vice President and Senator who championed nullification and
slavery
in the early 1800s.
Back when the residential-college system was set up in the 1930s, Yale didn't have many other nationally influential figures to name colleges after. (
William Howard Taft
, President and Chief Justice, appears to have been too recent to be non-controversial.)
About ten or fifteen years ago, some people in the Yale community proposed
changing the name of Calhoun College
so that it honored someone whose views had not become so repugnant, someone who had moved American society
forward
.
At that time, I wrote to the college alumni magazine suggesting that the name Calhoun should remain, but as a reminder of how having wealth and power can blind people to common justice. We graduates could sometimes use that reminder.
That's similar to what Jonathan Holloway, once master at Calhoun College and now the Dean of Yale College,
argued at a forum
last year:
Holloway explained his belief that the Calhoun name should remain "as an open sore, frankly, for the very purpose of having conversations about this."

"I've seen too many instances where Americans have very happily allowed themselves to be amnesiac and changed the name of something and walked away," Holloway said, according to an audio recording of the panel.

"I want to hold Yale accountable for the decisions it made."
Which would be more likely to start such conversations, seeing Calhoun's name or not seeing it? Which course would be more likely to lead to complacency, keeping the troubling name or choosing a new name and letting the old one fade to forgotten? Would a recurrent, almost ritual, grappling with Calhoun's name and legacy, like the
repeated toppling of King George's statue
or the
annual dumping of tea into Boston harbor
, best serve the issues?
When Janet Halley took the Royall Professorship of Law in 2007, she started a similar conversation by
highlighting its financial roots in slavery
:
"The fact that the funds that established the Royall Chair derived, directly and/or indirectly, from the sale of human beings and the appropriation of their labor—these are facts," said Halley. "What does one do about them? Thinking in binarized terms of condemnation and redemption just doesn't seem to capture the complexity of this question."

Halley began her remarks with a roll call of the names of the distinguished professors who have held the Royall chair before her. She ended her talk—in a coda that left audience members visibly moved—with a contrasting recitation of the recorded names—most of them first names without surnames—of the slaves of the Royall household. "It is a solemn roll call, as intrinsic as the first one I read to our Isaac Royall legacy."
But I don't think that "solemn roll call" was ever institutionalized as a regular event. Those individuals went back to being invisible.
More recently,
Halley spoke to the Boston Globe
about the trade-off of changing the school's crest so that it doesn't honor
Isaac Royall
: "The upside would be that there would be this cathartic moment of saying no to its origins. But the danger would be that it could facilitate a forgetting of its origins." That's because the cathartic moment could occur only once. A reading of names, on the other hand, could be part of a regular reexamination of that history.
TOMORROW: Which Royall?