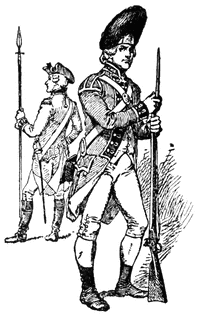 In May 1769, John Moies was about twenty-nine years old, a private in His Majesty's 14th Regiment of Foot, stationed in Boston. He was also one of six soldiers brought up on charges for (as I described yesterday) robbing the shop of John Carnes. The indictment listed these stolen goods:

40 shillings in coins
22 pairs of men's shoes
36 woolen stockings
3 pairs of black mitts
20 watch seals
various amounts of fabric, ranging from "25 yards of holland" worth £6 to "one yard of cambric" worth 8 shillings
The editors of
The Legal Papers of John Adams
point out that "the minutes [of the case] contain no direct evidence of theft, only the circumstantial evidence of possession of the stolen goods." Since the list above differs from what Carnes advertised as missing, however, I think the indictment probably described what goods the prosecution could prove thieves had taken—i.e., what people had recovered or testified to.
In any event, there was enough evidence for the Boston jury to convict Moies of theft. (Of the other five soldiers, four were never tried and the last acquitted.) Moies was sentenced to a whipping of "20 stripes on the naked back" and ordered to pay Carnes triple damages—a whopping sum of £78.13s.6d.
Since Moies couldn't possibly pay that amount, the court quickly ruled under an old Massachusetts law that Carnes was "fully authorized and impowered to sell and dispose of said John Moyse to any of His Majesty's subjects for the space and term of three years." British commanders fumed about a soldier being sold into servitude this way. From New York, Gen.
Thomas Gage
suggested that a soldier in that situation should be rescued by force and hidden on a navy warship, writing:
Such an infamous piece of Tyranny, savours more of the Meridian of Turkey than a British Province. It is a trite Remark, that these Bawlers against Government under the pretense of Liberty, are always the greatest Tyrants. It is not Tyranny they dislike, they only Squabble for the Power to become Tyrants.

Back in Boston, Gen. Alexander Mackay tried to arrange a settlement between Moies and Carnes, as he had managed to do for another soldier convicted of theft. But his talk with this private shocked him: Moies didn't want to be redeemed. He was apparently glad to go into some sort of servitude. It was "a connivance," Mackay wrote Gage, "in order to secure him his Discharge, or in other words a sort of Legall Dismission from the Regiment." Mackay declared Moies was "a Rascall."
I must add that the muster rolls of the 14th Regiment, which I examined in
Britain's National Archives
, show that officers continued to list John Moies as in "Prison" until at least May 1772. And during those years the War Office in London continued to send his pay to the regiment's colonel.
The trial of Pvt. Moies is discussed in the second volume of
The Legal Papers of John Adams
, the commanders' response in
The Boston Massacre
. I thank
Hiller B. Zobel
, co-editor of the first and author of the second, for bringing those sources to my attention last year.
TOMORROW
: Whatever happened to John Moies?