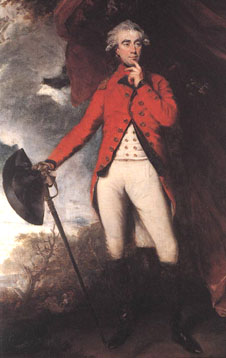 On Friday I quoted Al Young's message on how the British forces on Long Island became notorious for raping young women—at least notorious among Americans. That reputation may have started soon after they landed in the region in the fall of 1776, judging by their behavior and attitude toward the local citizens.

Here's part of a letter from Francis Rawdon, Lord Hastings, then a captain among the British army's Engineers, to his uncle back in Britain:
The fair nymphs of this isle are in wonderful tribulation, as the fresh meat our men have got here have made them as riotous as satyrs. A girl cannot step into the bushes to pluck a rose without running the most imminent risk of being ravished, and they are so little accustomed to these vigorous methods that they don't bear them with the proper resignation, and of consequence we have the most entertaining courts-martial every day. . . .

A girl of this island made a complaint the other day to Lord Percy of her being deflowered, as she said, by some grenadiers. Lord Percy asked her how she knew them to be grenadiers, as it happened in the dark. "Oh, good God," cried she, "they could be nothing else, and if your Lordship will examine I am sure you will find it so."
To get the joke, we must recall that grenadiers were on average larger than regular soldiers. And then of course we must look very serious because jokes of this sort are
not funny
.
The quotation comes from
The Battle of Brooklyn, 1776
, by John J. Gallagher. The picture comes from
NNDB.com's entry for Lord Hastings
.