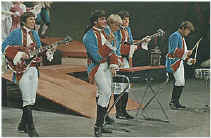 A while back, Brad Paisley Jeff Pasley at the Publick Occurrences blog on Common-place posted a couple of items about American rock bands with names recalling the colonial period and early republic.

Everybody knows about Paul Revere and the Raiders (or should)—a hard-rocking band out of Idaho by way of Portland, Oregon. They came by their Revolutionary name honestly: their co-founder and keyboards player was really named Paul Revere. (He was also raised as a Mennonite, which I suspect was a rarity among rock and roll musicians.) The other co-founder was vocalist and sax player Mark Lindsay.

The Raiders started to wear historical costumes about the time they signed with Columbia Records, which was trying to get into youth music. At first, Revere and company rented some topcoats from a costume store. Those went over so well with their audiences, especially as part of or in contrast to their antic stage choreography, that they commissioned whole outfits for themselves, including colonial-revival three-cornered hats.

The group's visual dimension, their sense of a rock-and-roll show as all-around wild entertainment, caught the attention of Dick Clark. In 1965 Paul Revere and the Raiders became the stars of his new television show, Where the Action Is. They got featured in teen magazines. And that promotion finally made their records start selling nationally. In that respect, the Raiders prefigured the Monkees, Archies, Partridge Family, and other T.V.-based rock groups.

That pop success in turn meant the increasingly influential rock critics of the late 1960s disdained the band, even though its members had spent years playing in clubs and released several good songs. In 1969 Lindsay left for a more fulfilling solo career. The band dropped Revere's name to become the Raiders and in 1971 had their first #1 hit—a political protest song. Of course, "Indian Reservation (The Lament of the Cherokee Reservation Indian)" protested an event of 1838.

As for more obscure rock bands with names from early American history, Pasley and his Common-place correspondents found:
I'd like to see a battle of the bands between the 1971 Raiders and the Andrew Jackson Jihad.