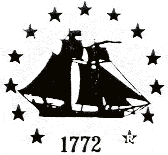 In his History of the Province of Massachusetts Bay, former Massachusetts governor Thomas Hutchinson wrote of the American response to Parliament's "act for the better preserving his majesty's dockyards, magazines, ships, ammunition, and stores":
Through inattention to dates, this act was supposed to have been occasioned by an assault upon the officers and men of his majesty's armed schooner Gaspee [in 1772], and the burning of the schooner in the harbour of Rhode Island. This act did not arrive in America until some months after the fact, but it passed in parliament before the fact was committed; and the setting fire to the storehouses in the king's yard at Portsmouth [in England] seems to have given rise to it.

This fact at Rhode Island, and the consequences of it, had a great tendency to strengthen the attempts making in Boston to raise a fresh spirit in the colonies. A vessel in the king's commission and service had been attacked by a great number of armed men, the commander grievously, and, it was supposed, mortally wounded, and the vessel, and all that was combustible, burnt. Many of the persons concerned were known, and little, if any attempt was made, by authority in the colony, to bring any of the offenders to justice.

It was therefore thought fit, in England, that a special commission should issue from the crown, to authorize and direct an inquiry into the affair, and to grant the necessary powers for that purpose. The governor of the colony, though elected annually by the people, was named at the head of the commission. An authority to grant such commission is indisputably in the crown. . . . Such a commission, however, became an additional article of grievance.

The commissioners met, and sat some time to no purpose, and, after an adjournment of some months, met a second time, but with no better success. Such persons as had been groundlessly suspected, they found no difficulty in convening; but the persons really concerned in the fact, they either were never able to apprehend, or, if any such were apprehended, no witnesses would appear to give testimony against them.
Gaspee.org
is a fine website of material about the burning of the
Gaspée
, drawn largely from the records of this commission. Click on the site's spinning logo above and immerse yourself in the event.