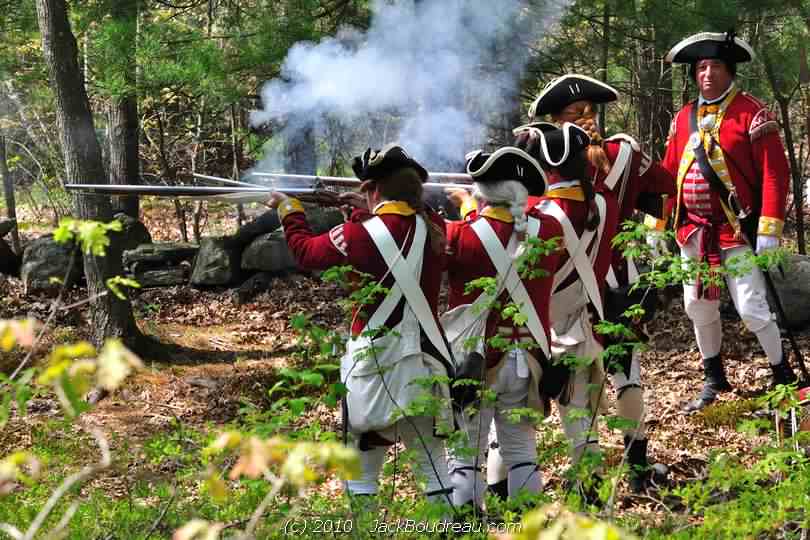 The Patriots Day commemorations aren't over yet. And since it was kind of cold and wet on the official weekend, maybe Saturday, 30 April, will bring better weather for
Pathway of the Patriots
.
This event is organized by the Charlestown Militia, and takes place in
Woburn
along a preserved part of the Old
Lexington
Road. The event description explains:
A portion of this road still exists today in near pristine condition in the Battle Road Conservation Area. When walking this stone wall lined pathway, houses, vehicles, power lines, and other modern intrusions are soon left behind. Time seems suspended as wild turkeys, deer, and other creatures scurry across the road ahead or watch from a distance.

Although no fighting historically occurred on Woburn's Battle Road, this stretch of road, undeveloped since the 18th century, offers a unique setting to reenact a portion of the Crown Forces march from Concord back to Boston under constant fire from the Woburn Militia and other Colonial militia and minute companies from the surrounding towns.
The event is free and has on-site parking. Its description promises:
At scheduled times, interpretive scenes take place: you can attend the Raising of the Liberty Pole; watch the British troops drill; hear the Wives of the Patriots trying to understand how the future will be affected; witness the punishment of suspected rebels; and join in and try your hand (and feet) at English Country Dancing.
There are walking tours along the Battle Road, crafts demonstrations, and children's games throughout the day.
The photo above comes from last year's Pathway of the Patriots event, and was taken by
photographer Jack Boudreau
.