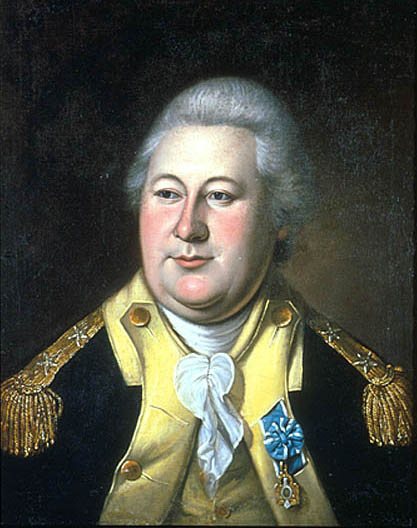 One of the historical questions I've puzzled over is when
Henry
and
Lucy Knox
left Boston, making a break with her
Loyalist
father,
Thomas Flucker
, whom they never saw again. The family papers offer little clue.
Knox's earliest biographer, Samuel A. Drake, wrote in 1873:
Just one year from the day of his marriage [on 16 June 1774] Knox quitted Boston in disguise (his departure having been interdicted by [Gen. Thomas] Gage), accompanied by his wife, who had quilted into the lining of her cloak the sword with which her husband was to carve out a successful military career.
Drake offered no source for that probably overdramatic sentence, but it was the earliest statement I'd found. Noah Brooks's 1900 biography said the Knoxes left Boston on 19 April, again without support, and that book is unreliable on other matters. So my best guess was still Drake's June date.
But I recently spotted a clue in the Rev. Dr.
Samuel Cooper
's diary for 14 May 1775. The day before, he wrote, he had gone to
Concord
and found the Rev.
William Emerson
absent. Cooper "engag'd to p[rea]ch for him on the Morrow, while he was to supply
Groton
." So on Sunday the Rev. Mr. Cooper
Went to Concord with [daughter] Nabby. put my Horse at Mr [Ebenezer] Hubbard's, found to my Surprize Mr. Emerson at the Meeting House Door. He pray'd I pch'd a.m. f'm, the Consolation of Israel. We din'd at Mr Emerson's, with Mr. Knox and Wife of Boston. I pray'd Mr Emerson pch'd p.m. we drank Coffee at Mr Hubbards. slept at Mr. [Samuel P.] Savages. Horse at [Joseph] Russell's.
There were a few other men named Knox in and around Boston in 1775, but Henry was the most prominent. So it appears the Knoxes were out of Boston and heading west by 14 May. Emerson's more spotty diaries say nothing about them, but of course he didn't know they would be famous.
TOMORROW:
So who preached at Groton?