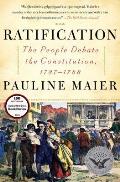 Tonight the Lexington Historical Society hosts Prof. Pauline Maier speaking on how the states ratified the Constitution, the topic of her recent book Ratification: The People Debate the Constitution, 1787-1788.

On 10 Dec 1787, the town of Lexington had a meeting to respond to the call for a convention to respond to the proposed new federal structure for the U.S. of A. The upshot:

The Town then made choice of Benjamin Brown Esqr. to represent them in the State Convention to be held at the State House in Boston on the Second Wednesday of January next to give their Assent & ratification to a Constitution or Frame of Government for the United States of America as reported by the Continental Convention begun & held at Philadelphia, in May, 1787—
Benjamin Brown (1720-1802) was a farmer and deacon of the local congregation. He had been a selectman, member of the town's committee of correspondence, and representative to the
Massachusetts General Court
and
Massachusetts Provincial Congress
. (He was also father of
Solomon Brown
, who
Boston 1775
notes was quite significant in the start of the war.) The Wisconsin Historical Society displays a
nearly unreadable image
of Brown's official documentation as a delegate.
The Lexington town records don't seem to include complex or wary instructions for Deacon Brown. In that town at least, there seems to have been little discussion of whether Americans should or should not "give their Assent & ratification" to the new Constitution. Brown appears in the official record of the convention in Boston (at the Federal Street meetinghouse, not the State House) only once, voting yea at the end. But there was a lot more drama evident elsewhere.
Maier's talk on that saga will begin at 8:00 P.M. in the Lexington Depot Building and 13 Depot Square. There will be coffee and cookies, and book sales and signing.