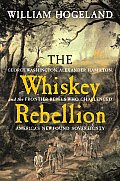 From the
website of Boston College High School
, "the Jesuit high school of Boston":
Author William Hogeland will visit BC High on March 6 as part of the Corcoran Living Library Lecture Series.

Hogeland is author of a number of books on American history, including: Declaration: The Nine Tumultuous Weeks When America Became Independent and The Whiskey Rebellion.

The Corcoran Living Lecture Series is made possible by the generosity of Joseph E. Corcoran '53, as part of his donation to the BC High library. The speaker series fulfills Corcoran's goal to create a "living library," where learning goes beyond books and computers to bring noted authors and speakers to campus to talk to students face-to-face.

The lecture begins at 3:30 p.m. in the Gregory E. Bulger Center for the Performing Arts. Seating is limited. RSVP to Mary Driscoll or 617-312-2548.
From Hogeland's own
Hysteriography blog
:
Along with playing a little banjo music, I'll be talking about — and encouraging discussion of — Tea Party and Occupy appeals to founding economic history; failings in liberal/conservative consensus histories of the founding; what we should and should not mean by accuracy in historical research and narrative; why "constitutional conservatives" aren't.
I'm tempted to sign up just to watch people who've read only one of these descriptions discover the other.