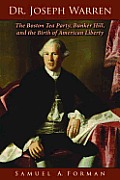 In addition to the annual commemorations grouped around Patriots' Day that I linked to
here
, a few more talks caught my eye because they're one-off events in unusual venues.
On Monday, 16 April (which is legally Patriots' Day), at 10:00 A.M., Dr. Sam Forman will sign copies of
Dr. Joseph Warren: The Boston Tea Party, Bunker Hill, and the Birth of American Liberty
, at the
Vine Lake Cemetery
, 625 Main Street in
Medfield
. Why a cemetery in Medfield? Because that's the burial place of
Mercy Scollay
, Dr. Warren's fiancée when he died. Forman will "read from her newly attributed works and unveil her portrait."
That same day at 7:00 P.M., Seamus Heffernan will do a
book-signing and chat
about his alternative-history comic
Freedom
in the
Modern Myths
shop at 34 Bridge Street in Northampton. Check out our conversation about that reworking of the Revolution
starting here
.
On Tuesday, 17 April, the
Nichols House Museum
will present a lecture by Peter Drummey, the Stephen T. Riley Librarian at the
Massachusetts Historical Society
, on "The Real Liberty Bell: Boston Abolitionists, 1700-1863." This will take place the
American Meteorological Society
at 45 Beacon Street in Boston starting at 6:00 P.M. Admission is $20, or $15 for members of the museum. For reservations, call the museum at 617-227-6993, preferably by 13 April.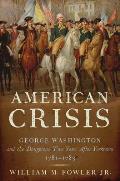 Finally, on the actual anniversary of the outbreak of the war—Thursday, 19 April—Prof. William Fowler will speak at the National Archives in Waltham about his latest book,
American Crisis: George Washington and the Dangerous Two years After Yorktown, 1781-1783
. Fowler is, among many other things, the Gay Hart Gaines Distinguished Fellow in American History at Mount Vernon. That free program begins at 6:00 P.M. Reservations are recommended;
email
or call toll-free 866-406-2379.