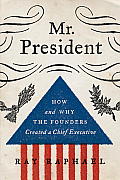 On Thursday, 20 September, at 6:00 P.M. the
Old South Meeting House
will host author and friend of
Boston 1775
Ray Raphael
for a free public lecture on
"Partisanship and the Founders."
This talk is based on Ray's latest book,
Mr. President: How and Why the Founders Created a Chief Executive
.
Old South just sent members an interview with Ray which starts like this:
OSMH: What do you think is the greatest misconception that the American public has about the presidency as the Founders intended it?

RR: Today, we assume the president is supposed to run the show. If the economy fails, it's his fault. That's not how the framers of the Constitution viewed it. Congress, which included the people's direct representatives, made the decisions and enacted the laws; the president only enforced them. In the Constitution, the list of congressional powers is long. The president, by contrast, has few powers, and two of the largest—making appointments and negotiating treaties—were last minute entries, transferred from the Senate to the president with less than two weeks to go in the Constitutional Convention.

OSMH: What would the early framers of the American presidency think about what the office has become?

RR: They would be sad, embarrassed, and ashamed at the intense partisanship. The framers created the presidency to counter the "spirit of party" they expected to prevail in Congress, yet inadvertently, by creating a single executive who soon appeared to embody the nation, they triggered the rise of political parties on a national scale.
In fact, several of the Constitution's most active framers, including
James Madison
and
Alexander Hamilton
, were involved in
building
those parties they had hoped to avoid. As in the pre-Revolutionary period, each side viewed the other as going too far and therefore went farther just to keep up, as they saw it.
Ray will also speak at the
Massachusetts Historical Society
on 24 September at 6:30 P.M. His talk there is titled
"The Curious Creation of the Electoral College: What the Founders Didn't Want and Didn't See Coming,"
and it will cover a different aspect of the same history:
Hoping to sidestep popular elections and transcend politics, the framers concocted a bizarre, untried method of selecting the president. Little did they suspect how their system would be gamed, from 1789 through 2012.
That event begins with a reception at 5:30. Seating is limited; reserve a space through
this site
.
Old South is also hosting talks on Boston ghost stories (18 September, 7:00 P.M.) and the War of 1812 (for three more Wednesdays starting tonight, 6:30 P.M.). The Massachusetts Historical Society also has an exhibit on the War of 1812. Must be an anniversary or something.