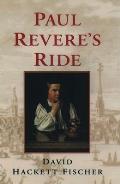 On Monday, 22 October, the local American Revolution Round Table will meet at the
Minute Man National Historical Park
's Lexington Visitor Center. This season's discussion will focus on David Hackett Fischer's excellent history
Paul Revere's Ride
.
The organizers state:
The mission of the Round Table is to help keep the spirit of the American Revolution alive and to better understand its values, ideals and legacy. . . . we will be using Professor Fischer's exciting narrative to look behind conventional wisdom about what the ride was really about, and to discuss what Revere's ride means to Americans today.
On this local topic, the discussion is sure to be enhanced by remarks from folks who've been studying and reenacting the events of 18-19 Apr 1775 for years.
Folks who know
Paul Revere's Ride
well are welcome to reserve a seat at the table by contacting
Dr. Mel Bernstein
. The discussion is scheduled to last from 7:00 to 9:00 P.M. There is no charge for this event.