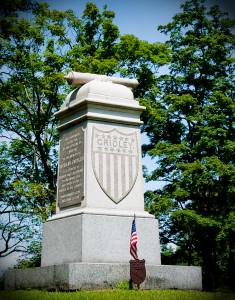 On 20 Oct 1775, Col.
Richard Gridley
of the Continental
artillery
regiment presented his commander-in-chief,
George Washington
, with an "Inventory of Ordnance and Stores necessary for the present Army, supposing it to consist of twenty thousand Men."
At the bottom of that sheet was a section headed "Ordnance, Shot, and Shells, now in Camp." That listed:
Cannon:
24 pounders, 5; shot, 449.
18 pounders, 6; shot, 260.
12 pounders, 2; shot, 149.
9 pounders, 3; shot, 1,175.
8 pounder, 1.
6 pounders, 2.
5 1/4 pounders, 4; shot, 1,134.
4 pounders, 7; shot, 1,475.
3 pounders, 9; shot, 3,079.
2 1/2 pounders, 2; shot, 1,009.

Total number of cannon, 41.
Total number of shot, 8,730.
Carriages, ladles, rammers and sponges, &c., complete.

Mortars:
10 inch mortars, 3; shells, 374.
8 inch mortars 2; 8 inch howitzers, 3; shells, 452.
7 inch brass mortars, 2; shells, 641.

Total number of mortars, 10.
Total number of shells, 1,467.
With beds, carriages, and implements, complet.
That was more than a month before Capt.
John Manley
captured
the British ordnance ship Nancy
with brass cannon and mortars aboard, and three months before Col.
Henry Knox
, Gridley's successor, returned from Lake Champlain with more heavy cannon.
I quote this inventory to refute the common idea that Washington's army had no artillery until Knox came back. It had dozens of cannon, including some that shot balls as large as any from
Crown Point
and
Fort Ticonderoga
. Of course, like any good general, Washington wanted more.