Before I leave the topic of Revolutionary espionage for a while, here's a question that came up while I prepared last Sunday's talk. A mother called asking whether her young son would enjoy the event. The topic was spies, but I talked more about ferreting and figuring out historical evidence than about derring-do. So I recommended a couple of books for young readers that might offer more exciting tours of the same ground.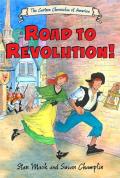 I've written about Stan Mack's Road to Revolution! before (starting here). It's a Tintin-like romp following two young teenagers caught up in the outbreak of the Revolutionary War. Both Nick and Penny sneak in and out of Boston during the siege, working for the Patriots.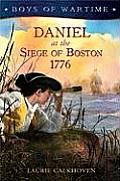 Laurie Calkhoven tells a story of spying more seriously, and in prose, in Daniel at the Siege of Boston. I did a little pre-pub consulting on this book, advising on what would be a realistic way to leave the besieged town. Daniel ends up helping to expose one of the spies discussed in my talk.

Both books include scenes at the Continental headquarters in Cambridge (site of my next talk this Thursday) as the young heroes meet the commander-in-chief.

As it turned out, there were a couple of young folks at Sunday's lecture, and they stayed awake. At least I hope so.