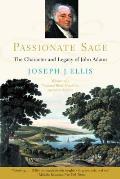 Joseph J. Ellis has long focused on well-documented individuals in eighteenth-century America, which, given the structures of the time, mostly means white men with wealth and education. Not always famous men, though: his first book was about Samuel Johnson of
Connecticut
and King's College, the sort of historical figure
Wikipedia is made for
, and the men profiled in
After the Revolution
are only slightly better known.
In 1993 Ellis wrote about a more famous individual,
John Adams
, but started with that President's life after being President. The result,
Passionate Sage
, is probably his best book, bringing out new insights into Adams's mind. It helped usher in new respect for Adams, though it took David McCullough's more traditional biography to make him a television luminary.
Next Ellis wrote
American Sphinx
, about
Thomas Jefferson
—a more popular President to begin with. This book covered its subject's entire national career, from the Second
Continental Congress
through retirement. The result was a more familiar study, but also a bestseller and winner of the National Book Award.
Since then, Ellis has focused closely not just on the Founders but mostly on well known parts of their lives, particularly their political activities.
Founding Brothers
and
American Creation
are in essence collective biographies, each a collection of essays about top politicians maneuvering among themselves.
His Excellency
covers President Washington, and
First Family
returns to John Adams—but this time as a more familiar study of his marriage and family.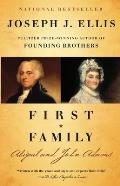 In his review of
First Family
for
The New Republic
,
Jack Rakove detected a formula
in Ellis's approach:
He likes to limit his books' number of chapters (five to seven) and overall length. Each chapter has a clear theme, framed within neat chronological limits. Ellis is a natural storyteller, a conversational historian in the ease with which he addresses readers. He generally avoids the distractions and complications that other historians feel driven to work out. He projects a great deal of confidence in his own judgments, which smack of genuine scholarly insight.
Rakove's review also suggested that Ellis had gotten sloppy with little facts that add up to a lot.
Ellis's latest is
Revolutionary Summer
, about the period when the Congress voted for independence and Gen. Washington confronted the British military with nearly calamitous results. It comes in eight chapters plus a postscript.
Andrew Cayton's review
of Ellis's
Revolutionary Summer
in the
New York Times Book Review
begins: "If you know the musical '1776,' you know the plot of Joseph J. Ellis's breezy new book. It's a stirring and conventional story."
This approach has earned good reviews from authors with roots in journalism, such as David M. Shribman
in the Boston Globe
and David Holahan
in the Christian Science Monitor
. Those reviews basically retell the book's narrative and argument about the importance of this period (which few would really argue with). But does Ellis's focus on famous individuals mean he's missed important parts of the story?
TOMORROW: Great men and ordinary people.