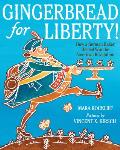 Gingerbread for Liberty!: How a German Baker Helped Win the American Revolution
is a picture book due to be released next month. Author Mara Rockliff tells the story of the Philadelphia baker Christopher Ludwick, whom the
Continental Congress
appointed "Superintendent of Bakers, and Director of Baking" in May 1777.
As
Publishers Weekly
reports, the artist Vincent X. Kirsch, a former food stylist, created watercolor illustrations inspired by gingerbread cookies. Ludwick was known in Philadelphia for his gingerbread; indeed, it looks like he had made a tidy fortune between arriving in that growing city in the early 1750s and the Revolutionary War.
Rockliff told that magazine about her challenges in finding sources on Ludwick: "It turned out that pretty much everything anyone knows about Ludwick comes from a
short biography first published in 1801
, the year he died, by his friend
Dr. Benjamin Rush
, a signer of the
Declaration of Independence
."
Rush sent an early copy of that pamphlet to
Abigail Adams
,
writing on 23 July 1801
:
The Account of Christr: Ludwick was written to fulfil an Old promise made many years ago, in case I should survive him. You will feel the patriotic Sentiments uttered by him. To the present calculating generation, they appear fanatical, and unintelligible.—
(Subtext: Young people today.)
Adams replied
:
The Life of Christopher Ludwick will be read with pleasure by all Lovers of virtue, honor and patriotism; it is a model for the Youth, but my dear Sir these days of prosperity, Luxury and dissipation are not those in which such characters flourish; we have an intire new Theory in Religion, Morals & politicks, corresponding with our State of Society.
(Subtext: It's all
Jefferson
's fault.)
Rush's pamphlet was reprinted throughout the 1800s by the
charitable organization
Ludwick had funded. It naturally portrayed him in a good light.
TOMORROW: How much did Ludwick really do during the war?