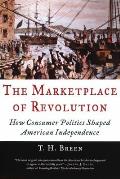 As another sort of preparation for
T. H. Breen's talk at Cambridge Forum on Wednesday
, I'll point to
this episode of BackStory
, the public-radio show on American history. I enjoy that show as a podcast.
This particular episode, "Counter Culture," is about shopping in American life. Cohost Peter Onuf interviews Breen about the topic of his book
The Marketplace of Revolution
, which argues that the boycotts of non-essential goods from Britain starting in the mid-1760s helped to bond the North American colonies more tightly than they ever had been. In listening to the show, it's important to remember than "consumerism" means something different to social historians than it does to shoppers today.
BackStory
is cohosted by three historians representing early America (Onuf), the nineteenth century (Ed Ayers), and the twentieth century (Brian Balogh). Each episode therefore covers a wide swath of time and offers multiple perspectives on its theme. The episode I linked to, for example, also includes segments on the advent of the big discount department store chains in 1962 and L. Frank Baum's work promoting shop-window displays at the same time he started his
career writing for children
.